Wow! I  found out one of my favorite electronic labels is retiring and releasing their entire catalog free on Bandcamp….

http://enigmatiksounds.bandcamp.com

In such a short time, they've assembled a nice collection of artists with some really innovative and rich sounds. Worth a listen if you like glitchy downtempo beats with a cinematic ambient under-layer.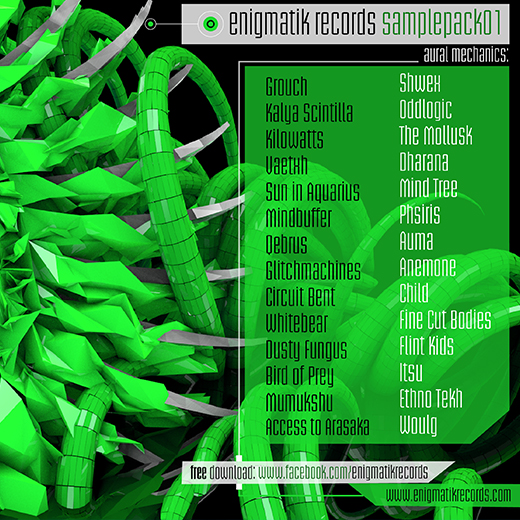 …on July 4th, 2014 they wrote:

"Alas all good things must come to an end, such is the case with Enig'matik. Thanking all the kind people that helped support us over the last couple of years. All our work will remain online, aswell as our discography which we hope serves as a little reminder to the uniqueness we strived to bring to underground music and digital culture. Make sure to keep in touch with the artists that we worked with over the years, as all of them will go on to create amazing work for years to come. After considering our future its apparent that our time is most valued put into our own personal projects. Thanks again for the support."

And here is a taste of what's next on the menu:

"If anyone is interested in getting a more in depth look at our last project: For Vivid Sydney 2014, Ethno Tekh created an unique interactive music system to be projected onto Sydney University for the public to be in control of using a Leap Motion as it's control input.  ethnotekh.com/project/vivid-2014/  We worked in collaboration with Enig'matik Records, who produced the amazing musical content which the users could manipulate in real-time by controlling the abstract creatures movement in this building-sized remixer.

Artists: Ethno Tekh, Auma, Clockvice, Fine Cut Bodies, Ion Driver, Sun In Aquarius, Woulg + Video by Clayton Smith